Bangladesh Health Watch, Kurigram District Health Rights Forum (DHRF), and Solidarity (NGO) jointly organized an opinion and experience sharing meeting on 14th March 2022 at Solidarity Training Center, Kurigram. Mr. Mohammad Rezaul Karim, Deputy Commissioner of Kurigram, attended the program as the Chief Guest. At the same time, Dr. Ahmed Mushtaque Raza Chowdhury, Convenor of BHW and Civil Surgeon of Kurigram, Dr. Manzoor-e-Morshed, was present there as the Special Guest. Other attendees include Mr. Shahidullah Lincoln, Superintendent of District Sadar Hospital, Advocate SM Abraham Lincoln and Raushan Ara Chowdhury, President Mahila Parishad, Kurigram, Swapan Sarkar Bhakat, Freedom fighter Nur Mohammad and physicians, journalists, Executive Heads of various NGOs, District Upazila, Union Health Rights Forum members, and youth forum members.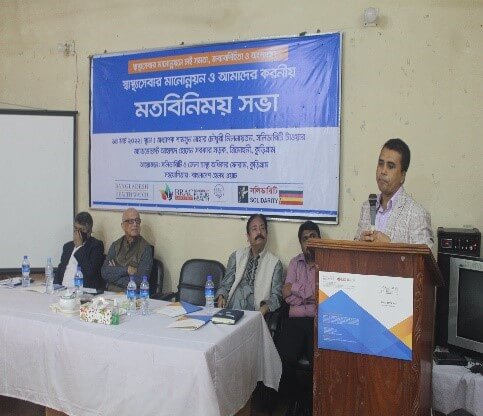 At the onset of the meeting, BHW Chief Coordinator Mr. Shaikh Masudul Alam welcomed the guests. Later, Civil Surgeon. Dr. Manzoor-e-Morshed gave a vivid picture of the health services of the Kurigram district. He said that the district hospital's workforce shortage and the absence of a general surgeon in the Upazila Health Complex were the main obstacles to quality healthcare. Besides, 1,77,000 first jab vaccines and 1,67,000 second dose vaccines were completed.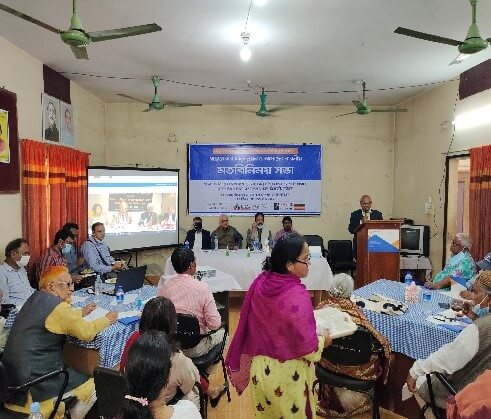 The discussants raised various challenges and limitations of health services in the Kurigram district through an open discussion. Everyone stressed solving the problems locally. In his speech, Bangladesh Health Watch convener public health expert Dr. Ahmed Mushtaque Reza Chowdhury said that Bangladesh had progressed in many areas in Southeast Asia. Still, in many cases, we are lagging. Every year 30-40 lakh people are becoming poor due to the high cost of healthcare. He also said that to achieve the Sustainable Development Goals of 2030 and be a developed country by 2041, it is necessary to increase the budget in the health sector. This requires the best use of allocations in the health sector, accountability, equity, and people's participation. Bangladesh Health Watch and District Health Rights Forum are acting as civic forums, which will solve some of the problems locally on the one hand and provide an opportunity to highlight local realities in national policymaking on the other. He said that through the work of the DHRF, issues that affect the health services, particularly for the poor and women, would be identified. It is expected that some of the issues would be resolved locally (e.g., the extension of Covid-19 vaccine to remote Hatya Union of Ulipur Upazila) and other issues that require higher level interventions would be taken up by BHW for national level advocacy.
The chief guest, Mr. Mohammad Rezaul Karim, District Commissioner, Kurihgram said that they must take collective steps to move forward and achieve sustainable development goals with all their rigorous efforts. He also called for stopping unnecessary caesareans, preventing unnecessary antibiotics, ensuring healthcare for the poorest people, ensuring accountability, and making the best use of available resources and workforce.
Participants representing different stakeholder groups actively participated in the discussion. Mr. Omar Faruque pointed out that medicine price has been high as a selection of vendors in the drug procurement process is not transparent. A tender process should also be developed.
Hospital Superintendent Dr. Shahidullah Linkon stated that District Sadar Hospital serves 1500-2000 patients outdoors every day despite various limitations. A Central Oxygen system has been introduced though the oxygen plant is yet to operate. 50% of the total workforce is using the service. The authority is trying to fill it. Kidney dialysis is being arranged.
Mr. Swapon Kumar Bhakt has said that all cesarean operation at Ulipur Upazila Health complex is done at private clinics as there is no anesthetist. He urged for policy advocacy on this issue.
Ms. Rawshan Ara Chowdhury appreciated District Hospital Authority for their recent dive on keeping the hospital premises clean. She requested the Deputy Commissioner to extend their hands to civil society initiatives.
In response to the participants' discussion, the DC promised to take the initiative to assign a Medical Assistant who will provide health services fortnightly to the remote area of Narayanpur village.
The Recommendations:
The vacant position both the Upazila and district 250-bedded hospital to be filled up and the DHRF and Hospital authority will jointly pursue to solve the problems
The char people are more suffering, and the authority will take extraordinary measures within their resources to provide necessary services
Unnecessary cesarian to be stopped and both administration and hospital authority will take the initiative to build awareness
The sub-standard private clinics to be more vigilance to improve their quality of services
Regular monitoring from the hospital authority to be strengthen
DHRF will work together with the district administration and hospital authority to improve the quality of services from CC to district hospital
Cleanliness, queue management, and presence of the specialized doctors should be in priority for the quality service of the people.
Report prepared by: Rajesh Adhikary, BHW.