A research dissemination program was held on 23 July, 2023 at Brac University Auditorium at 10 am. The program was organized by Bangladesh Health Watch (BHW). A reputed research organization Eminence conducted the study titled 'Voices of the Grassroots: Effects of Climate Change on Health' with the support of BHW.
A panel of experts from different sectors; such as public health, environmental scientist, academicians, etc were present in the occasion. The program was moderated by Abu Jamil Faisal, public health expert and working group member of Bangladesh Health Watch. Climate change consists of an increase in atmospheric temperature, abnormal seasonal variation, excessive rainfall, flooding and droughts are increasing difficulties in accessing quality water sources, contributing to the disease burden, says the study.
On that occasion, Dr. Ainun Nishat, Advisor, Centre for Climate Change and Environmental Research and Professor Emeritus Brac University were present as Chief Guest. Mr Wameq A Raza, Health and Nutrition Specialist, World Bank in Bangladesh, and Gawhar Nayeem Wahra, Member Secretary of Foundation for Disaster Forum were present as panel discussants.
Dr Shamim Hayder Talukder, CEO of Eminence presented the study finding of the research. Bangladesh has been experiencing major health impacts of climate change due to its vulnerable geographical location. It affects the social and environmental determinants of health –clean air, safe drinking water, sufficient food, and secure shelter - impacting peoples' health and quality of life. The study has been conducted in eight major geographical locations, such as Dhaka, Netrokona, Chattogram, Barguna, Satkhira, Sunamganj, Sirajganj and Kurigram.
Dr Talukder showed in his presentation that the most prevalent health conditions in the assigned areas were cholera, dengue, visceral leishmaniasis, reproductive tract infection, typhoid, malaria, hypertension,illnesses linked to excessive salinity, such as stroke, hypertension, cardio-vascular disease, etc.
From the study findings, if has been identified that the quality of the health care infrastructure is below the necessary level with ineffective maintenance, minimal services and equipment. This unavailability prevailed especially in community clinics, union sub-centers etc. Some health centers do not have enough service providers, so, they are overburdened; a provider might attend 100-200 outdoor patients in a day. Only government and private health facilities at the upazila, district, and divisional levels are found to offer diagnostic services.
The Chief Guest, Dr Ainun Nishat said, "Health impact should be evaluated through scientific explanation." Dr Nishat talked about reading and implementing NAP (National Adaptation Plan). He also highlighted eight major areas to work on; those are; i) Mitigation ii) Adaptation, iii) Finance, iv) Technology Transfer, v) Capacity Building, vi) Global Target, vii) Loss and Damage, viii) transparency mechanism. To work in this areas of inclusiveness and accountability should be ensured. He talked environment experts to work on 'MRV'- Measurable, Reportable, and Verifiable nationally appropriate mitigation commitments or actions.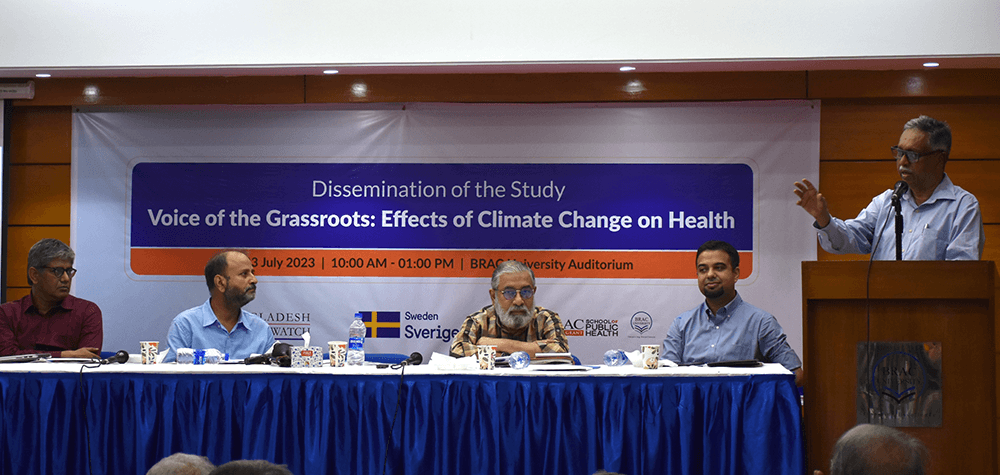 Wameq A Raza the health and nutrition specialist at the World Bank in Bangladesh,talked about climate change and mental health issues. He said that this mental health issue need to be considered. Wameq A Raza also said that climate change was contributing to air pollution, particularly in urban areas, and health hazards due to air pollution needed to be studied further.
Gawhar Nayeem Wahra member secretary of the Foundation for Disaster Forum said, "The study should have investigated the data of health intuitions of the study areas". The vector-borne diseases will increase as an aftermath of climate change. He also warned that rainwater harvesting to minimise drinking water shortage around salinity-prone areas as asbestos tin-shed roofs otherwise poses serious health risks which need to be stopped.
Some of the recommendations have come up from the study are, i) Ensure presence of medical service providers, technicians and specialists at union sub centers and upazila health complex, prioritize skill development of medical service providers for detecting and treating the relevant specific diseases for climate vulnerable communities etc.
At the end of the program, Mahruba Khanam give her vote thanks.
The program had good media coverage. Journalist from print and online media joined the program.

Media Coverage
Sl
Media Name
Links
Type
1
Amader Somoy
'জলবায়ু পরিবর্তন রোগ ও স্বাস্থ্যঝুঁকি বাড়ায়'
Link:https://www.dainikamadershomoy.com/post/454540
Print
2
Prothom Alo
জলবায়ু পরিবর্তনে নারীর প্রজননস্বাস্থ্য হুমকিতে
Link: https://www.prothomalo.com/bangladesh/jribkxh0mo
Print
3
The Business Standard
Experts recommend improving primary healthcare amid climate hazards
Link:https://www.tbsnews.net/bangladesh/health/experts-recommend-improving-primary-healthcare-amid-climate-hazards-670102
Print
4
Jagonews.com
'জলবায়ু পরিবর্তন রোগ ও স্বাস্থ্যঝুঁকি বাড়ায়'
Link: https://www.jagonews24.com/national/news/871375
Online
5
Daily Ajker Potrika
জলবায়ু পরিবর্তনে স্বাস্থ্য বিপর্যয়ে গ্রামীন জনপদ
Print