Bangladesh Health Watch (BHW) has been implementing the three-year project, `Making Bangladesh's Healthcare Systems More Responsive and Participatory' with the funding support of the Swedish International Development Cooperation Agency (SIDA) since December 1, 2019.
As part of its activities, BHW took an initiative to sensitize its Health Rights Youth Forum on gender issues and thus arranged training for its youth volunteers. This report is based on Gender Sensitivity Training for Health Rights Youth Forum conducted in all eight Regional Chapters of BHW. The training has been conducted from 22 October 2022 to 08 December 2022. The BHW has successfully accomplished this training despite the all-year-round planned activities. Health Rights Youth Forum is a volunteer platform where almost 350 enthusiastic, vibrant, and proactive young people have come together to achieve a common goal of developing and improving their local health system and management.
This report aims to describe the particulars of the training and shall be documented for further actions.
Name of the Training: Gender Sensitivity Training or জেন্ডার সংবেদনশীলতা বিষয়ক প্রশিক্ষণ।
Purpose of the Training:
-to understand gender and gender sensitivity
-sensitize and motivate health rights youth forum to mitigate health-based gender discrimination. -to adopt attitudes and behaviors that value differential experiences and perspectives
-to ensure listening and respect for each other's experiences and views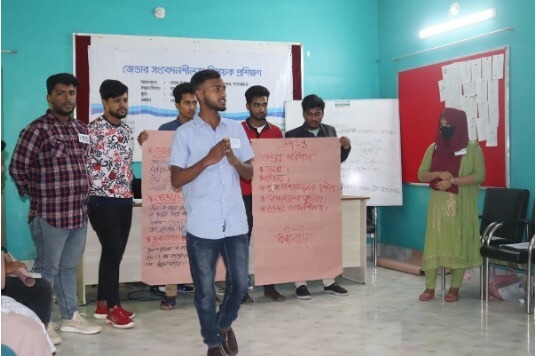 Trainer: Mr Shuvashis Chandra Mahanta was the key facilitator of this training. He has diverse experiences in providing trainings and has worked as a consultant with, UNDP, Oxfam, HEKS, Christian Aid, BRAC, MJF and other organizations.
Schedule of the Training:
| SL | Name of the Regional Chapter | Date | Venue |
| --- | --- | --- | --- |
| 01 | Manikganj | 22-10-22 | District Shilpokola Conference Room |
| 02 | Khagracchari | 24-10-22 | Hotel Gairing |
| 03 | Barguna | 03-11-22 | Upazilla Parishad Hall |
| 04 | Kurigram | 06-11-22 | Solidarity Tower |
| 05 | Sunamganj | 09-11-22 | Latifa Community Center |
| 06 | Chapainawabganj | 24-11-22 | Nokib Hossen Conference Room |
| 07 | Netrokona | 30-11-22 | SUS Dream Center |
| 08 | Bagerhat | 08-12-22 | RED Shelter Complex |
Training participants:
A total of 201 youth volunteers took part in this training. Manikganj had the highest number of attendees with a total of 37 participants. A distinguished number of participants from each upazila health rights forum made the training more participatory. The number of female participants was lesser than male participants. Most of the participants were aged 18-27.
| SL | Region | Host | Participants | Male | Female | Female Percentage |
| --- | --- | --- | --- | --- | --- | --- |
| 01 | Manikganj | BARCIK | 37 | 23 | 14 | 31% |
| 02 | Khagracchari | Zabarang | 22 | 13 | 9 | 30% |
| 03 | Barguna | Jago Nari | 17 | 10 | 7 | 44% |
| 04 | Kurigram | Solidarity | 25 | 16 | 9 | 40% |
| 05 | Sunamganj | ERA | 25 | 17 | 8 | 32% |
| 06 | Chapainawabganj | Proyas | 25 | 16 | 9 | 44% |
| 07 | Netrokona | SUS | 25 | 17 | 8 | 40% |
| 08 | Bagerhat | Rupantar | 25 | 16 | 9 | 36% |